Enrolment is now open for ELC's Summer Festival of the Arts!
We are offering an exciting selection of experiences for children, including robotics, bookmaking, mini musicals, 3D modeling and printing, sports, engineering, mindfulness, and more…
The programme will run through two sessions and children are able to sign up for whole sessions or individual weeks.

The Summer Festival welcomes all current children, those new to ELC in August 2022, and children from other schools.

Sign up for upcoming K1 – Y1 (age 3 – 6)
Sign up for upcoming Y2 – Y6 (age 7 – 10)

We look forward to embarking on a summer adventure with you!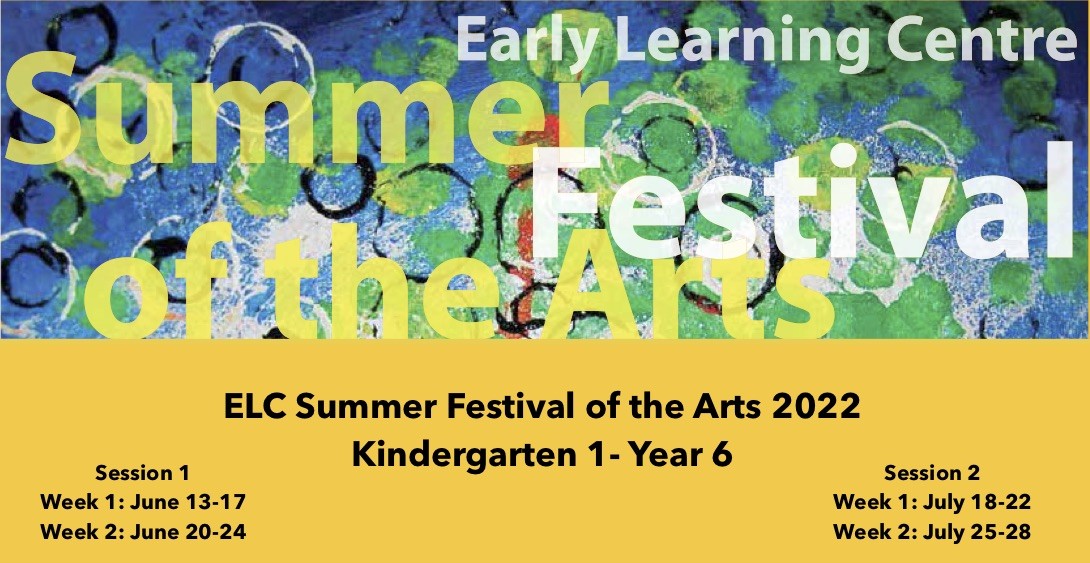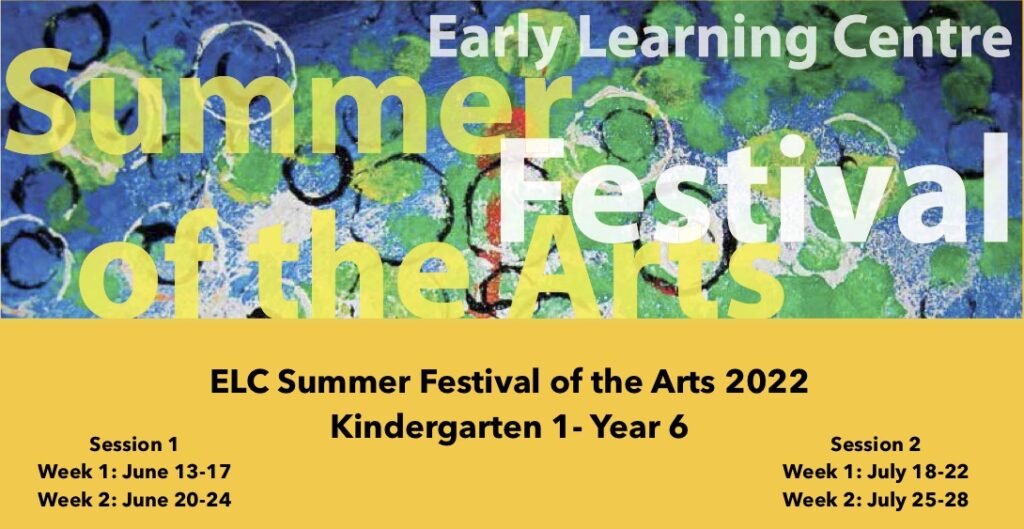 PROGRAMME

SESSION 1
Week 1: June 13-17
Week 2: June 20-24
K1 – Around the World
Come and join us as we embark on a journey around the world! We will spend our time together learning about different people, places and traditions from different countries. How do you say "hello" in your language? What types of food can we taste in your country? What does your flag look like? We will explore different aspects of our global community through literature, art, dramatic play, construction and even cooking. The more we learn about each other, the stronger our community will be.

K2 – Young Engineers
Dive into a maze of shapes and patterns as we invite children to explore, visualize and design their own structures through hands-on experiences and learning opportunities. Look at photographs of architecture and buildings from around the world and be inspired to construct your own designs and structures. Investigate symmetry, foundations and load bearing bridges. Share narrations and dramas about our creations and sing songs about construction and the associated sounds. Discover and explore tools, construction vehicles, signage, workers and demolition!

Y1 – Young Geographers
We do not inherit the Earth from our ancestors, we borrow it from our children. Here is a step towards introducing our children to their planet, their world, while integrating literacy, maths, creativity, and social-emotional awareness. Explorations of oceans, jungles and forests, and deserts introduce our young scientists to our wonderful planet while they develop an appreciation for our Earth. Let's build a community that cares and lives in harmony with nature.

Y2-6

Robotics
Join us and be part of an exciting excursion into the world of Robotics, real and imaginary. Children will become immersed in the exploration of designing, building and coding robots with LEGO EV3 and Sphero SPRK. Together, they will design and construct simple robots to complete specific tasks and overcome challenges. Skills such as planning and instructional writing will be supported and enhanced during the creation of a manual that goes along with the robot.

Mini Musical
Take part in a musical adventure as we embark on the production of a mini scale musical throughout the week that will span all critical aspects of production. From singing and dancing, to prop making and deepening literary connections, children will experience both the production and presentation side of show business.

Creative Coding
Explore the artistic and creative side of coding as each day we dive into new and unique ways to approach coding using a variety of tools. Dance, music, painting, pixel art and more will be an integral part of connecting algebraic mathematical concepts as children learn to transfer and apply their learning in a new context each day.

World of Sports
Join us in this fun world of sports! By participating in motor challenges, and team games, you can enjoy with your partners while building on your knowledge of sports rules, movement techniques, coordination, and locomotion skills.

Bookmaking
Journey into new lands through the language of literature. Children will engage in the study and examination of the wondrous world of books by exploring different styles, genres, authors, and illustrators. Combining this new information with our prior knowledge, we will experiment with different techniques for creating and crafting our own unique books.

Mandarin Art
Children will create their own magic puppet in a theatre frame by learning to use various art techniques. Children will integrate the Chinese language during the art-making process. They will be introduced to shapes, animals, colours, stationeries and action words in Mandarin.

3D Modelling and Printing
Children will follow the engineering design process in order to imagine, plan, create, test and improve a 3-D prototype that has a real-world application. Children will learn the fundamentals of designing on the TinkerCAD platform including manipulating dimensions, rotating and transforming objects in space. Through this week of exploration, children will also develop an understanding of how 3-D printers work and why they are used.

Literacy
Children will develop their global citizenship and media literacy skills by engaging in a literacy workshop that explores current events through a number of media sources and culminates in the creation of their own children's blog.

SESSION 2
Week 1: July 18-22
Week 2: July 25-28
(note Friday 29 July is substitution Holiday)

K1 – Innovation and Invention
Innovation comes from creativity and ingenuity, and it's driven by a desire to make things better for everyone. Put on your thinking caps, open your minds and be inspired by the creativity of the past as we problem solve for the future. Investigate and experiment with materials and design to learn scientific principles through hands-on explorations. Use this knowledge to design and create your own structure or invention.

K2 – The Art of Mindfulness
Mindfulness is an essential skill that helps develop self-awareness and self-regulation. In a world that is in constant motion, mindfulness can help us truly experience life rather than letting it pass us by. Bringing a gentle and accepting attitude to the present moment allows us to increase our focus, attention and self-control, boosts our problem-solving skills and emotional regulation and positively impacts our overall well-being.

Join us to discover the art of being fully aware of the present moment. Through movement, art, dance and even cooking, the children will immerse themselves in the sensory exploration of their world as they learn techniques and develop tools to quiet their minds and slow down to savour its wonders, richness, rhythms and nuances.

Y1 – Inventors of Tomorrow
This two week programme will see the children creating and building machines. Our intrepid Inventors will follow the Design Thinking Process and work collaboratively as designers and engineers to make simple machines inspired by Rube Goldberg inventions. Visits to the construction centre will see the children using various materials to create exciting marble runs. Problem solving and innovation skills need to be harnessed by all as they plan, design and construct these elaborate structures.

We will also explore various board games and learn the rules of different games from around the world. The children will then be challenged to make their own games from recycled materials. We will inspire future architects, engineers and inventors.

Y2-6

Exploration of Sound and Music
The children will embark on a journey through sound and movement. They will investigate sounds, invent their own sound patterns and create a collaborative musical composition. They will dance and move freely to a variety of songs and share their feelings about different genres of music. They will then explore the features and dynamics of choreography and create their own.

As you know, in a Reggio-inspired school, the children are the curriculum. So let's see where this musical journey will take us.

Experiential Writing
A literature focused programme exploring a diverse range of concepts from science experimentation to art and drama experiences. Children will engage in a different experience each day, then will have the opportunity to creatively express how meaningful the experience was through a variety of expressive languages and writing genres. The children will record and represent their experiences in diverse ways based on their strengths and interests, and be introduced to new forms of expression ranging from graphic novels to audio recordings. The aim is to develop children's verbal, artistic and written communication skills, and improve their logical inference skills and critical and creative thinking.

Children as Artists
Children will engage and explore what an artist does and where ideas for art can come from. They will have the opportunity to sculpt, paint, draw and print while developing their own ideas and images. They will engage with artists' work while developing skills such as engaging and persisting, observing, stretching and exploring and expression of self.

Design Thinking
A week long, minds-on, approach to deepening our understanding of the design thinking process.
Children will discuss their initial ideas and quickly move into sketches and other ways to represent them like black marker, watercolours, acrylic colors, paper prototypes and ending with the final prototype using clay.

The object we are going to create will be The Chair, a real Design Project that many designers have already approached. This will be adapted for our use through a Reggio philosophy and pedagogical lens.

Mandarin Language & Culture
The week will involve a deep dive into the four seasons of Chinese cities. We will explore through video interpretation, art expression, as well as character writing by children under the guidance of experienced Mandarin teachers.

Fantasy Workshop
Explore the creative process of writing and building a Fantasy setting. A literacy, artistic, and drama-focused experience where we will build our own fantasy kingdom, working together to combine ideas and build a fantasy world of our own collaborative design. As a group, we will write our own unique stories within this shared world, and design our own heroes, villains and settings to explore and adventure!

World of Sports
Join us in this fun world of sports! By participating in motor challenges, and team games, you can enjoy with your partners while building on your knowledge of sports rules, movement techniques, coordination, and locomotion skills.
Sign up for upcoming K1 – Y1 (age 3 – 6)
Sign up for upcoming Y2 – Y6 (age 7 – 10)

Please contact ELC International Schools for further information: inquiry@elc.ac.th